Happy Passover – chag sameach! Welcome to the JKids All-Star Musical Passover home activity kit.
Click the links below to enjoy all kind of fun Passover activities and resources.
We are so excited to learn, play, and celebrate with you!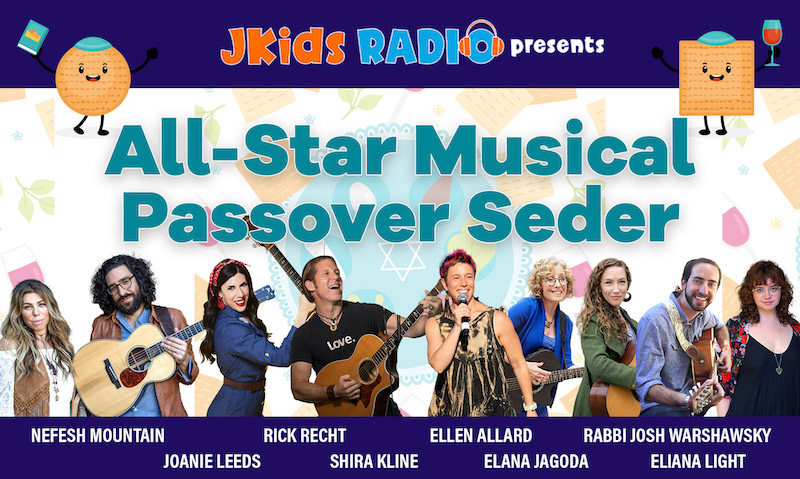 OUR PASSOVER HAGADDAH
PJ Library Passover Hagaddah (click to download)
ACTIVITIES & RESOURCES
All-Star Activity Kit!
Enjoy this All-Star Musical Passover Seder Activity Kit with LOTS of great activities – Art, Cooking, Sensory Play, Games, & More!  
***View, Download, and/or Print!
Coloring
• JKids ColorTime: Passover Coloring Sheets
• Color your own Seder Plate
Music Videos
Watch, sing, and rock out with your very favorite JKids artists!
Books
Add these wonderful children's Passover books to your bookshelf and make sure to check out these 7 PJ Library Passover Books to read with your preschooler!
Learn More about Passover
• Check out the PJ Library Step-by-Step Seder video playlist. In each brief segment, the great Shira Kline shows you one of the fifteen steps of a seder.
• Check out this 15-minute seder for the youngest kids at your Passover table.
Music
• Enjoy awesome Passover music on JKids Radio!
• Eliana Light – Bedikat Chametz Song


PJ Library is an award winning program that sends free Jewish storybooks and activities to families. The monthly subscription is perfect for kids from birth through age twelve. Sign up all the kids in your life at pjlibrary.org.